Please join San Diego's special agents and industry operators for an exclusive FBI briefing.
About this event
According to the 2022 "X-Force Threat Intelligence Index" by IBM Security, no industry is more targeted by cyber attackers than manufacturing. Half of these attacks are aimed at small businesses and the cost of the average data breach for a U.S. company has climbed to $4.24 million in 2021.* To combat these threats, federal agencies work together to mitigate the risks and protect this critical infrastructure and economic driver.
The FBI, in partnership with the Cyber Center of Excellence (CCOE) and California Manufacturing Technology Consulting (CMTC) invites you to participate in an executive-level briefing on cybersecurity, specifically tailored to the manufacturing industry.
Please join the FBI's special agents and industry operators for an exclusive briefing on:
Specific domain threats that might impact your business and resources available to help protect against those threats.
Counterintelligence threats and vulnerabilities currently targeted by nation states and details regarding their resources, methods and tactics.
Insights from industry operators about best practices and mitigation strategies.
When: Tuesday, August 16, 2022, 11:00 a.m. – 12:00 p.m. PST
Where: Live Webinar. Details will be provided to registrants.
RSVP: By August 12, 2022
This event is complimentary to attend and invite-only to Manufacturing executives.
For questions, please contact Lisa Easterly, CCOE at lisa.easterly@sdccoe.org.
Thank you and we look forward to seeing you there!
*Source: Ponemon Institute 2021 Cost of a Data Breach Study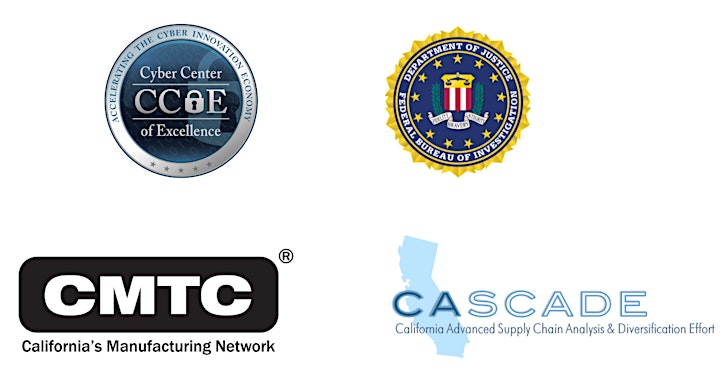 The California Advanced Supply Chain Analysis and Diversification Effort (CASCADE) is a comprehensive initiative funded by the U.S. Department of Defense (DoD) to bolster California's defense supply chain cybersecurity resilience, address immediate supply chain needs for California firms affected by changes in the defense industry, and support the growth and sustainment of California's cybersecurity workforce. CASCADE is led by the California Governor's Office of Planning and Research (OPR) and includes multiple project components executed by a consortium comprised of community, industry and non-profit partners; state agencies; and educational institutions.THIS EVENT IS PRESENTED BY CCOE WITH FINANCIAL SUPPORT FROM THE U.S. DEPARTMENT OF DEFENSE, OFFICE OF LOCAL DEFENSE COMMUNITY COOPERATION (OLDCC) THROUGH THE CALIFORNIA GOVERNOR'S OFFICE OF PLANNING AND RESEARCH (OPR). THE CONTENT REFLECTS THE VIEWS OF CCOE AND DOES NOT NECESSARILY REFLECT THE VIEWS OF OLCDD OR OPR.